All four semi-finalists came from the top 8 of the rankings and produced two very different semi-finals. In Cardiff, the Netherlands steamrollered a Portugal side with four goals netted without reply. In Marseilles, a tense affair was goalless going into extra-time. Italy took the lead early in the first extra period and were six minutes away from victory when Spain fought back to force a replay.
Portugal
0:4
Netherlands
Memphis Depay 8 (0-1), Kevin Strootman 41 (0-2), Memphis Depay 69 (0-3), Georginio Wijnaldum 77 (0-4)
Italy
1:1

AET

Spain
Federico Bernardeschi 93 (1-0); Rodrigo Moreno 114 (1-1)
The first semi-final replay since 2009 was a one-sided affair in Casablanca. Lorenzo Insigne's two goals would set up a final between the two most successful teams in the history of the competition.
Spain
0:3
Italy
Lorenzo Insigne 22 (0-1), Lorenzo Insigne 56 (0-2), Jorginho 66 (0-3)
Venue: Vienna

An uneventful game resulted in a record extending 4th title for the Italians against a team that was also appearing in its 4th final.


Italy
1:0
Netherlands
Andrea Bellotti 32 (1-0)
Champions - Italy !!!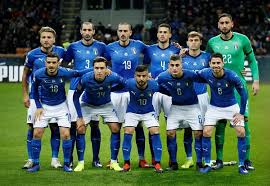 Kenya
0:1
Italy
Saudi Arabia
0:2
Italy
Italy
2:0
Serbia
Italy
2:0
Colombia
Italy
4:0
Poland
Italy
1:1

AET

Spain
Spain
0:3
Italy
Italy
1:0
Netherlands
An exceptional defensive performance by Italy. The only blemish on an otherwise 100% winning record was a draw with Spain in the semi-final replay. Both goals in that game came in extra-time meaning that the Italians didn't concede a single goal during 90 minutes in any of their eight games. The quarter-final victory against Poland and the semi-final replay win against Spain were particularly outstanding.