2019 champions Brazil were joined in the semi-finals by three surprise semi-finalists. In Mexico City, USA were unable to take a 4th big name scalp to join Belgium, Spain, and Italy but fought to the end and were only out of the game after Thiago Silva's late clincher.

In Athens, Slovenia's progress to the final was more comfortable, even if the scoreline was the same. Two goals either side of half-time ended Qatar's challenge and ensured there would be a European finalist for the 14th competition out of 15.
USA
0:2
Brazil
Neymar 13 (0-1), Thiago Silva 90 (0-2)
Slovenia
2:0
Qatar
Haris Vukcic 39 (1-0), Miha Zajc 56 (2-0)
Venue: Johannesburg

A second title in 3 years for Brazil following a tight game against surprise finalists Slovenia.


Brazil
1:0
Slovenia
Gabriel Jesus 44 (1-0)
Champions - Brazil !!!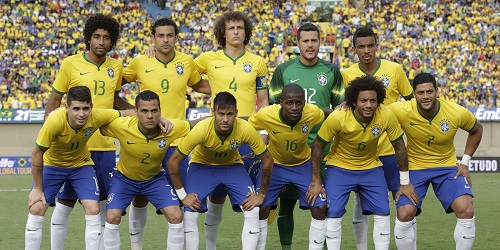 Madagascar
1:3
Brazil
Angola
0:7
Brazil
Brazil
0:0
Sweden
Sweden
2:4
Brazil
Brazil
1:1
Wales
Wales
0:3
Brazil
Brazil
2:0
Austria
USA
0:2
Brazil
Brazil
1:0
Slovenia
Brazil's triumph was based on consistency and a solid defence with clean sheets in the last four games. Sweden and Wales both pushed Brazil hard but the eventual champions came through with impressive victories in the replays.